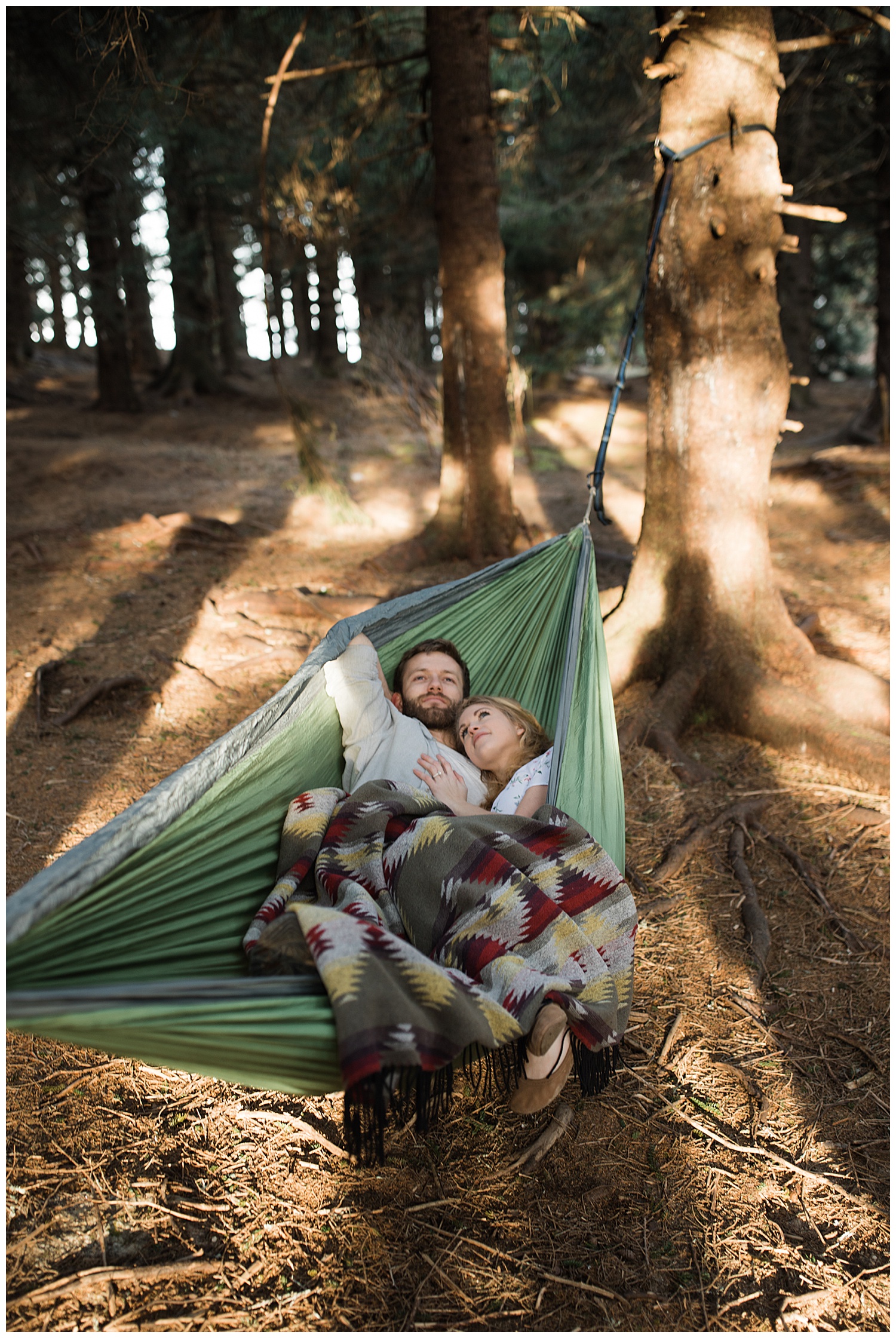 16 Jul

Lindy & Trent | Engagement Session

Things that we love … Engagement sessions were couples are actually doing things. Now, don't get us wrong. Posing for pictures is totally cool but when couples are in their element, participating in activities they dig, it just seems more natural. And no doubt, the Asheville area is the perfect place to do just that as there are endless possibilities of  fun to be had. Let's take a gander at Lindy and Trent's session with David & Drew Photography, who show us how dancing among the waterfalls, hiking Black Balsam ,and swinging on a hammock make for an undeniably precious e-session. Oh, and Lindy shocks us with a suprise in one of her responses.

Asheville Wedding Guide: Alright, cuties. How did you two meet?

Lindy: We met on August 26, 2018. We were both invited by friends to join a group from another church for a rafting trip on the Nantahala River. There were 40-something young adults and seven rafts, but we wound up on the same one. That day the whole group was talking about a Tough Mudder Race coming up.  When Trent realized that I was going to be joining them for that, he signed up, too, for a chance to see me again.  The next two weeks we were on each other's minds quite a bit and then there we were, in Nashville, at the starting gate. The race began and he ran all 10+ miles right by my side and we talked the whole time (except when we were chugging up a big hill or during an obstacle). The next day after church I received a message from him – I can't tell you how thrilled I was! The following Saturday was our first date (a hike, of course).

AWG: Couples that exercise together, stay together. And how about the proposal?

Lindy: He planned it SO WELL. All I knew prior was that a good friend had asked me to photograph a maternity shoot. I realized the day before the shoot that I had just assumed Trent would go with me since they were his friends also, but I finally asked, just to make sure, and of course he said he would go. Since we weren't doing the photos until later in the day and we were going all the way to Boone, we decided to go early in the morning and do some hiking while we were there (we both went to App State and love the area).  We took off onto a trail, complete with slick rocks with cables for ascending, tall ladders going up cliffs, and some of the most magnificent views. Little did I know that none of this was actually my idea like I thought it was. I also didn't realize he was leaving notes on the ladders behind me asking other hikers who may have been behind us to please give us a few minutes. So, unsuspecting me scaled the last ladder up onto an impressively huge rock formation which created the peak of the mountain.  Even in the middle of the proposal I was oblivious that this was the big moment because I had planned this whole trip, right? Wrong. There was no photoshoot, it had all been his plan, and then there he was on his knee with a ring, asking me to be his wife!

AWG: The photos on the hammock are such a cute idea. What made you do this?

Lindy: We brought the hammock ourselves. Trent's first job after college was marketing for ENO Hammocks so they have certainly played a role in many of our adventures! We love hiking, kayaking, backpacking, horseback riding, climbing, exploring new places, you name it.

AWG: Any details locked down for the wedding?

Lindy: Surprise! We already tied the knot. After a three month engagement, we had our wedding on June 15th at Broyhill Chapel in Mars Hill surrounded by family and friends. Our colors were sage, gray, ivory, and dusty rose (the latter inspired by my learning that you can dye fabric dusty rose with pinecones).

AWG: Congratulations!