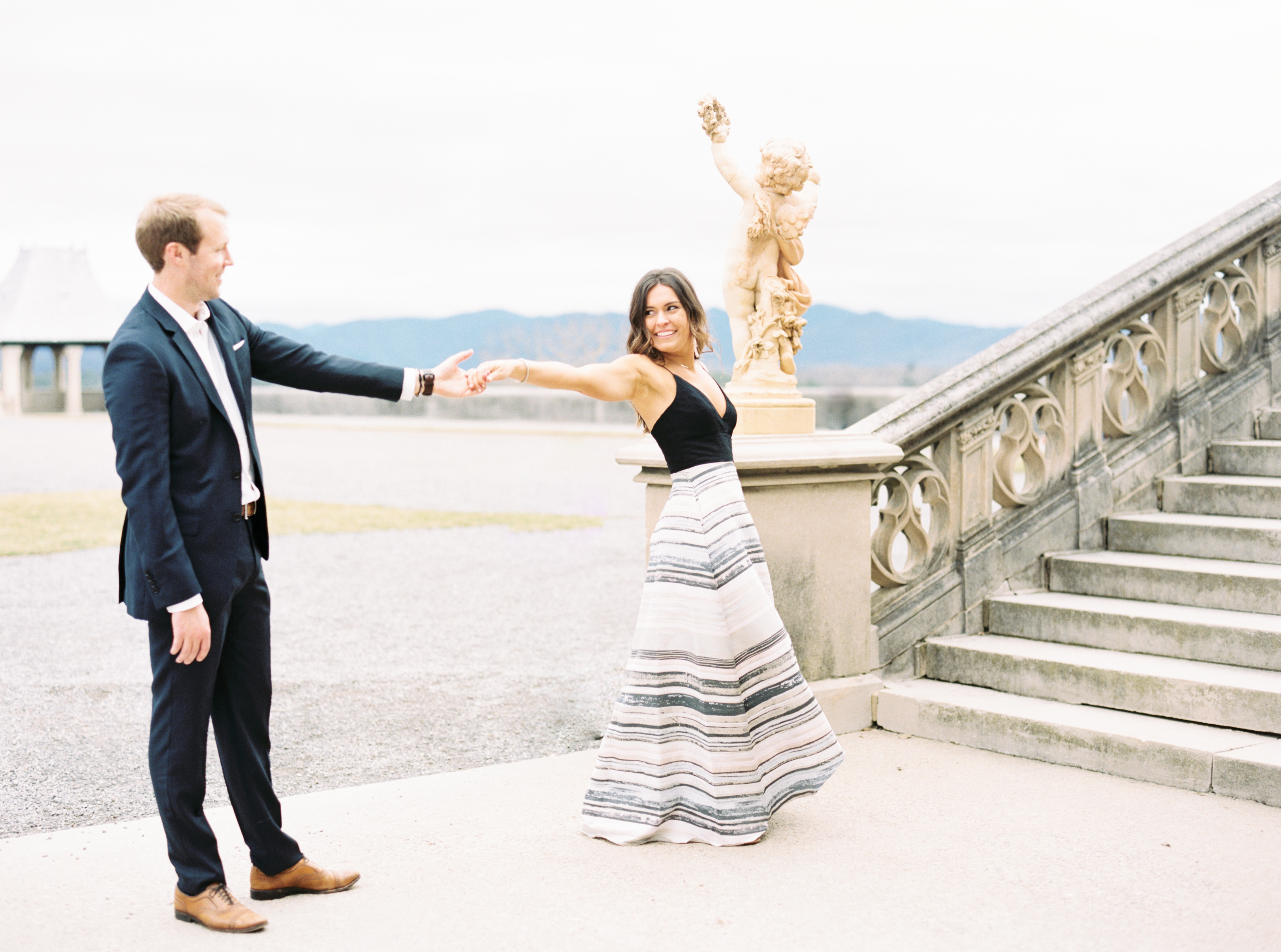 11 Mar

Brittany & Chad | Engagement Session

What struck us first about Brittany and Chad's engagement session was not the scenery (Hello, Biltmore) or the love between them. SHOCKING, I know, but once you get a load of Brittany's three outfit changes and how freakin' stylish this couple is, you'll see why we got distracted. Serious style envy. So with that out the way, this duo is adorable and although they are planning to wed in the Lowcountry in June, they knew, without a doubt, that they needed to travel to the mountains for their engagement session. And we can't blame them one bit. See more shots from Ava Moore Photography here and join us for our conversation with the soon-to-be Mrs.

Asheville Wedding Guide: Let's start from the beginning. Tell us how you two darlings met.

Brittany: Chad and I both lived in the same apartment complex in Greenville, South Carolina where he lived across the hall from me. He had tried to talk to me several times in passing or on the elevator, but let's just say that I initially had no interest. After I complained to him that his music was entirely too loud during the week, he gave me his number to "text him if it ever happened again" (and somehow finagled getting mine in return). After several attempted texts to meet up or hang out that I ignored, he saw me out downtown one night and asked me to dinner. I felt guilty that I had ignored him for so long, so I obliged. Little did I know that dinner would be one of the best, and last, dates I had ever been on. He always tells people "she hated me" when asked how we met, but I'm just so thankful he was so persistent! I love that our love story was so unexpected.

AWG: Well, that is too cute. I hope he paid for the meal. A lil birdie told us you were engaged in Paris. Spill.

Brittany: I had always dreamed of going to Paris and one night got a hopper alert of an extremely cheap flight for the following month to London. After a few glasses of wine, Chad and I booked the flight and decided we would take the Chunnel to Paris to visit my dream city. Before the trip, I had thought of how incredible a Paris proposal would be, but didn't expect it. While packing for our trip, Chad told me to make sure I packed an outfit I liked. He said he knew how badly I wanted decent pictures in front of the Eiffel Tower, so he booked a photographer through airBnb as an early birthday present. After arriving in Paris, we went to dinner at a cute cafe for  our first night and I commented on what a romantic city it was and how perfect a Paris proposal would have been had the timing been right. Chad completely shot the idea down yet again, and flat out told me there was no financial feasibility of it happening before December, especially with my new job. I totally believed him, so when we woke up early the next morning to "get to the Eiffel Tower before the crowds for our photos," I didn't think anything of it, even when Chad convinced me we should walk since the metro was "confusing." He then slowed down, turned to me, and told me that I may want to take off my sunglasses. As I did, I looked to the right and noticed the girl down the path who was once taking pictures of the building was now taking pictures of us and immediately realized what was happening. I looked at him in complete shock and just kept saying "No! No! Are you serious?!"  He just did such a good job convincing me the week and night before that the timing wasn't right, that I didn't even believe it. Before I knew it, he was down on a knee with a ring in his hand! It was the sweetest, most "us" proposal and I wouldn't have had it any other way (except for maybe he would have insured the ring before traveling with it)! Anyone that knows us knows that I am a hard person to surprise and let's just say, he killed it.

AWG: Ok, we normally make the answers brief but that was just too good. So, why choose Asheville for these pics?

Brittany: After our initial attempt in Greenville got rained out, our photographer Nicole asked how we felt about the Biltmore and mentioned she had always wanted to shoot there. I immediately latched onto the idea of the beautiful grounds and architecture that reminded me so much of Paris. Plus, it was a fun excuse for Chad and I to have a weekend getaway to Asheville!

AWG: And lastly. The outfits. Let us in, you fashionista.

Brittany: I would love to say that I took a ton of time deciding on my outfits and curating the looks, but the truth is I chose them the weekend before. I travel every week for work, so the photos snuck up on me before I knew it! I knew I wanted a casual outfit and a more formal look to accompany it, so I decided to raid my close for the casual look and turn to rent the runway for the formal. I always wear simple neutrals, so I wanted to stick to that style for all of our looks. For the causal, Chad and I have always loved the fall so a sweater and jeans were just very "us". For our more formal look, I chose a dress from rent the runway that I had previously tried on and fell in love with the look and fit of. Even though I was cautioned against wearing stripes, I really loved the fit and flow of the dress and it was one of those pieces that just made me feel good. My advice is to be yourself and pick something true to your style. In the world of Instagram and Pinterest, it's so easy to try emulate some trendy style you've seen that isn't you. I always opt for more timeless, staple looks so I stuck with this. Chad has also always had really great style so we just grabbed pieces from his closet for him.